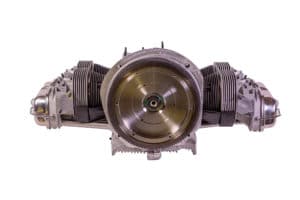 Produced in the UK on an ISO9002 certified assembly line, it's built around an all new full-flow ready aluminium crankcase and features a host of brand-new components and high-performance goodies.
044 spec big valve heads are partnered with stainless steel SCAT rocker covers, an Engle 110 camshaft, 69mm counterweighted crankshaft and I-Beam rods all ensure strength and reliability, not to mention the potential to create decent power once you have bolted on your carburettors and exhaust of choice.
Have a word with the guys and girls at Heritage Parts Centre on 01273 444000 to find out more. Alternatively, if this is just what you need surf over to HeritagePartsCentre.com with part number 211-100-037 in one hand and £3858.95 in your pocket, and it'll arrive on your doorstep a few days later!